We've Created One Of The Largest Networks Of Flatbed & Stepdeck Carriers.
Experience matters. We have more than the competition when it comes to flatbed & step deck freight.
Flatbeds and step decks make side loading and crane loading simple. All flatbeds come equipped with chains, straps, boards and 2 sets of drop tarps. Along with your standard Flatbed and Step deck, we also use Curtain side flatbeds and roll back Conestoga flatbeds so your freight is enclosed once it is loaded.
Flatbed trailers are used in several ways and can accommodate almost any load. Flatbed shipping is the preferred way to transport loads that are not easily transported in an enclosed dry van. As the most versatile trailer when it comes to transporting your equipment or cargo, a flatbed trailer may be loaded from the sides, from the top or from behind.
Some examples of typical flatbed freight include: large equipment, building materials and over sized machinery. Flatbeds allow for greater dimensional flexibility, which makes them the optimal and safest choice for these types of loads.
B4 Logistics uses flatbeds for many different customers. Whether it's crates, pallets or machinery, etc., flatbed is the way to go. B4 uses only 48' x 102" flatbeds equipped with air ride for a smooth ride
Anywhere you are in the U.S. Canada or Mexico we can provide Flatbed and heavy haul service. Daily tracking keeps you updated on the status of where your freight is at all times and makes working with B4 a simple solution to your shipping needs.
Air ride flatbed & step decks: B4 works with a lot of sensitive freight such as calibrated Laser machines, 5 Point CNC machines, and computer paneled machines along with many other different manufactured machines our customers ask us to haul. Air ride bags inflate and stabilize the trailer to protect the freight from hard roads, pot holes, unforeseen dips and overall rough conditions.
Click here to see a complete list of B4 Logistics Trailer Options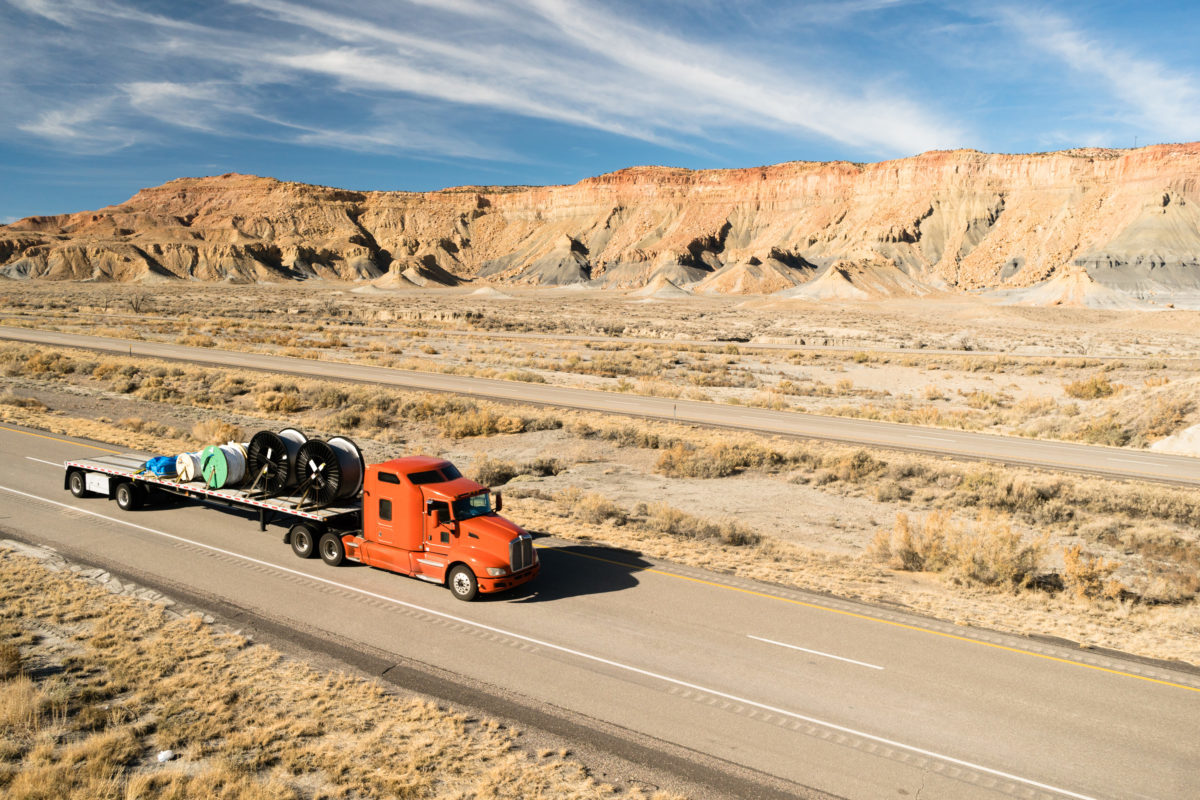 Flatbed into Parts of Canada
Spread tandems – the widely spaced axle configurations found mostly on flatbeds, car haulers and refrigerated trailers – exist for good reasons, all related to weight. Under various weight laws, spread or "split" tandems can legally carry more pounds per axle than close-spaced tandems. The distance between the two axles can vary if the vehicle runs within a certain state whose weight law addresses axle spacing. Anything crossing state lines has to follow the federal weight rules, and they exactly define that distance.
Under the federal B formula, the axles must be 10 feet apart (though in practice they are placed 10 feet, 1 inch apart just to be safe for the times when a zealous enforcement officer measures that distance with a tape).With the "10-1" spread, each axle is considered independent, and can carry up to 20,000 pounds, versus 17,000 for a typical 5-foot tandem. The rig still may not exceed 80,000 pounds gross.. Every one of our flatbed trailers will come with the correct equipment needed to haul your freight in the most safe and timely manner to the best of our abilities.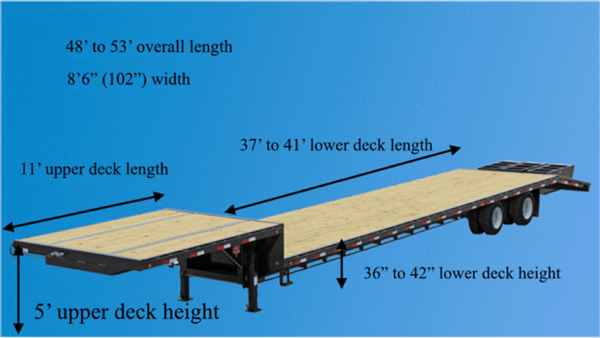 A step deck, also called a drop deck or single drop deck, is a type of trailer that is similar to a flatbed but with two deck levels: upper deck and lower deck that drops down after clearing the tractor unit. Like flatbeds, step decks have no roof and can be loaded from all sides, but they can also be used for taller loads and are generally easier to load as most step decks have ramps for easier loading and unloading.
Step deck trailers are used to haul cargo that exceeds the height limit of a standard flatbed trailer, making it ideal for hauling taller equipment, machinery or specialty-manufactured freight. Examples of typical step deck loads include: tractors, machinery and heavy freight over 9' tall.
Typical Step Deck Measurements
The construction of the typical step deck makes it a heavier trailer than a flatbed. They can transport 44,000 – 45,000lbs and are safer for forklift pickup due to the fact that they are closer to the ground.
At B4 Logistics, our trucking experts are experienced in the length, width, weight and height requirements nationwide and are here to assist you in your step deck transportation needs.
Click here to see a complete list of B4 Logistics Trailer Options
No Matter The Size Or Weight, We Can Haul It!
When it comes to critical load support of taller freight, B4 Logistics delivers full truckload (FTL) and less than truckload (LTL) step deck trucking options to securely transport your shipment to its destination in any of the lower 48 states, Canada and Mexico. In addition to the wide variety of flatbed and step deck transportation services that we provide, at B4 Logistics we also offer you the support of Team Drivers. This is a great option for any of your shipments that need to be delivered as soon as possible, or for projects that need expedited service to get your shipment there on time. Our experienced Team Drivers are able to legally travel approximately 1,000 miles per day.
Have some questions? Talk to an expert.
We help businesses scale by offering shipping & logistics options for any type of cargo to anywhere in North America.